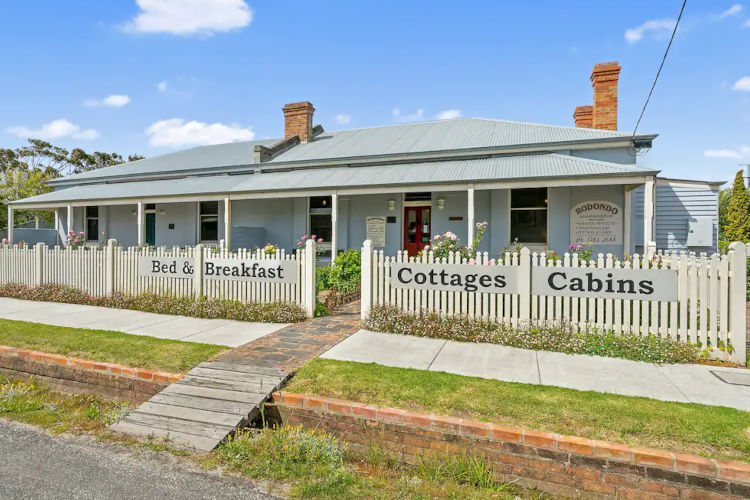 Built close by Port Albert Harbour in 1871, Rodondo offers guests a taste of the town's maritime history, along with every modern comfort and facility. Select from traditional B&B, elevated suites with fabulous harbour views, self-contained cottages or budget cabins.
The Bed and Breakfast rooms have gracious high ceilings, in-floor heating and ensuite bathrooms with twin showers over the huge "soaker" bath, providing that extra touch of luxury. The front verandah offers a sunny spot for relaxing and watching the world go by. Freshly squeezed juice, free-range eggs from our own hens and muffins straight from the oven are just some of the goodies on offer for breakfast.
The "Loft" building houses two modern light filled "beach house" style rooms upstairs, each of which offers separate entry and magnificent views of Port Albert Harbour. The large balcony is perfect for that late afternoon pre-dinner drink, and watching the boats going to and fro.
On the ground floor of the "Loft" building, is a spacious self-contained cottage. It comprises a large kitchen/living room, bedroom with ensuite bathroom, its own sunny private rear courtyard and a verandah with harbour views. The cottage can be rented as is, for couples, or "add on" additional rooms from the loft upstairs, for group bookings.
Chris's Cabin and Uncle Buck's Cabin are nestled in the garden at the rear of Rodondo bed and breakfast. Chris's Cabin is a tiny miners cottage. It is a single room with a double bed and a sofa/single bed, kitchen facilities and ensuite bathroom. It has lovely views of the Port Albert Harbour.
Alongside Chris's Cabin is Uncle Buck's Cabin, which is also a single room, with a queen sized bed, kitchen facilities and ensuite bathroom.
Just around the corner in Bay Street, and at the rear of Rodondo, is Dalmarnock Cottage. Dalmarnock is a two bedroom fishermans cottage with lovely harbour views. It has two bedrooms, one with a double bed, and the other with a king/twin bed plus bunk beds which are suitable only for children.
Nightly rates from

Traditional bed & breakfast rooms (1 to 2 people) - $120
Harbour view suites (1 or 2 people) - $140
Breakfast $15 per person
Extra person in room - $20

Loft Cottage - $160 for the first night, $120 per night thereafter
Chris's Cabin - $120 per night
Uncle Bucks Cabin - $100 per night
Dalmarnock Cottage - $210 for the first night, $150 per night thereafter

Property features

• BBQ facilities
• Laundry facilities

Bed & Breakfast accommodation
Harbour view suites and cottage

Fishermans Cabin and the Bunk House