Grampians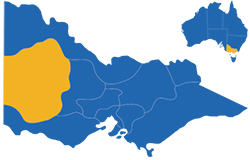 The Grampians is a large region located in the western part of the state, extending out to the state border with South Australia.
The Grampians takes its name from the famous national park which is the region's top tourist destination, receiving over one million visitors annually.
The Grampians National Park (also known by its indigenous name of Gariwerd) covers almost 170,000 hectares at the western end of the Great Dividing Range. It includes Serra Range, Victoria Range, Mt Difficult Range and Mt William Range with their towering sandstone mountain peaks. Within the park are a diverse collection of plants and animals, walking tracks, lookouts offering incredible panoramic views, waterfalls, lakes and forests. A major attraction for many is the collection of historic Aboriginal sites that can be visited.
The tourist centre of Halls Gap is located within the national park, while nearby to the east are the larger towns of Ararat and Stawell.
The Grampians region is much more than just the national park at its heart. To the north around Horsham and Nhill, wheat fields and sheep stations typify the landscape. Towards the higher rainfall areas of the south around Hamilton, beef and dairying is more common. While in the east are grape growing areas that date back to the gold rush days, dominated by the production of red wine. Several large lakes an reservoirs can also be found in the area.