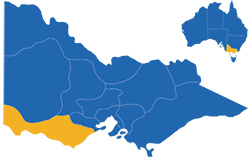 The Great Ocean Road region is named after the road which follows a significant part of the rugged Victorian south-west coast. It was constructed by ex-servicemen and the unemployed between 1918 and 1932 and is dedicated to those that lost their lives in World War One.
The Great Ocean Road commences south of Geelong at Torquay, but doesn't reach the coast until Anglesea from where it generally hugs the scenic coastline passing through the popular holiday resort towns of Lorne and Apollo Bay. It then heads inland, traversing the lush Otway National Park and reaching its highest point at the small town of Lavers Hill. Its final leg covers the Shipwreck Coast where many vessels during the 19th century ran aground due to rough seas and the rugged coastline. These vessels were carrying goods and immigrants to the country, at the rate of up to 50 ships per day during the height of the gold rush. This section of coast is home to a collection of notable rock formations including London Bridge, Loch Ard Gorge and the most famous of them all, the 12 Apostles, which were carved out of the limestone headlands by rough seas over time.
The western end of the Great Ocean Road region includes the coastal city of Warrnambool, the site of Victoria's first permanent settlement at Portland, and the remote untouched coastline which extends westwards to the fishing village of Nelson and the state border with South Australia.
Inland are the lush rainforests of the Otway Ranges and the huge volcanic plain surrounding Colac and Camperdown and Terang with its craters, cones, large lakes and fertile soils.
Visitor information centres
---
Regional photo galleries