Mornington Peninsula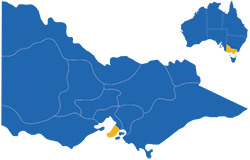 The Mornington Peninsula is a boot-shaped strip of land located south of Melbourne, flanked by Port Phillip, Western Port and the open waters of Bass Strait.
The popular beaches fronting Port Phillip provide an interesting mix of coastal landscapes. From Seaford to Frankston are flat and wide sandy beaches which are ideal for swimming. The coastline then transforms itself into scenic cliff tops overlooking pockets of sandy beaches in coves between Mount Eliza and Mount Martha. From Safety Beach to Rosebud and Rye are calm waters fronting extensive strips of sand and natural foreshore reserves. The coastline becomes more rocky through Sorrento and Portsea offering some great coastal views plus long stretches of sandy beaches near the main piers. A passenger and car ferry links Sorrento with the Bellarine Peninsula at Queenscliff.
The Bass Strait coast from Portsea to Cape Schanck and Flinders offers a much less commercialised environment with exhilarating wind-swept surf beaches, bushy foreshore reserves, scenic lookouts and rocky coastal formations.
The Western Port coastline around Balnarring is mainly rural sandy beaches with rocky outcrops. Further north, towards Hastings, the coastline transforms into mudflats and mangroves.
The highest peak on the peninsula is Arthurs Seat. It rises to over 300 metres and provides panoramic views from various lookouts.
The southern inland part of the Mornington Peninsula is recognised as a quality cool climate wine region with production dating back to 1886. There are many vineyards, mainly concentrated around Red Hill, Main Ridge and Balnarring. There are also orchards, berry farms, olive groves and gourmet food producers.
French Island, accessibly only by boat, is mainly covered by a national park which is home to Australia's largest koala community. The coastline consists of salt marshes and mangrove mudflats.