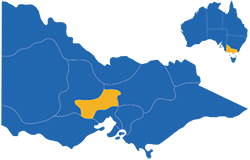 The Macedon Ranges region is located to the north and north-west of of Melbourne.
This region boasts the largest concentration of natural mineral springs in the country due to its location in a mountainous area formed by volcanic activity.
The majority of the springs are concentrated around Daylesford and Hepburn Springs, with this area being known as spa country - a centre for natural health treatments based on the therapeutic properties of mineral water. Many springs are located in public parks, allowing visitors to freely sample and bottle the water.
The towering peaks of Mount Macedon and Hanging Rock are part of a 6 million year old dormant volcano. This area was a popular summer holiday escape for Melbourne's affluent residents of the 19th century as they built lavish mansions with beautiful gardens in this cool forested area.
Many historic towns in this region have retained their early European influence, offering visitors a unique visual and culinary experience.
In the region's west are several former gold mining towns including Clunes, where a gold strike in 1851 triggered Victoria's prosperous gold rush era.
Visitor information centres