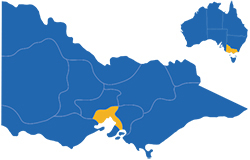 Melbourne is the capital of Victoria and the state's largest city with a population of around 5 million within its extensive urban area.
Melbourne's location on the Yarra River and at the northern end of Port Phillip means that great beaches are right on the city's doorstep including the beautiful sandy bay beaches of Albert Park, St Kilda and Elwood.
Melbourne is recognised as the sporting capital of Australia, having hosted the Olympic Games in 1956 and the Commonwealth Games in 2006. It is the spiritual home of Australian rules football and cricket, and the city hosts many international sporting events.
An abundance of parks and gardens can be found close to the city centre and include the Royal Botanic Gardens, the Flagstaff Gardens (one of Melbourne's oldest parks), Carlton Gardens and the Fitzroy Gardens.
Melbourne is a multicultural city due to the influx of overseas immigrants and this is reflected in its dining precincts such as the Italian influenced Lygon Street in Carlton, the oriental cuisine of the city's Chinatown and Victoria Street in Richmond, and Coburg's Middle Eastern eateries.
Great shopping can be enjoyed along the streets in Melbourne's city centre, large shopping strips in Melbourne's inner city suburbs and huge under cover shopping centres in the surrounding suburbs.
Melbourne is the only Australian city to have retained its extensive network of electric trams which provides public transport to regions up to 20 kilometres from the city centre.
Visitor information centres
---
Regional photo galleries