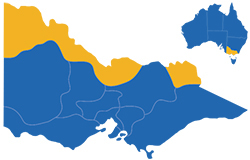 The Murray River is Australia's longest river and forms most of the state border between Victoria and New South Wales. The Murray region follows much of the river's journey through a diverse range of landscapes.
In the north-west of the state, the river flows through arid and dry land, with the irrigated vineyards and fruit growing farms around Mildura and Swan Hill providing a welcome oasis. South of Mildura and away from the river, desert bushes, isolated national parks and semi-dry lakes are all part of the landscape.
The central part of the Murray region includes the riverfront towns of Yarrawonga, Cobram and Echuca. The historic river port of Echuca was once Australia's busiest inland port during the days of steamboat transport in the mid 1800s. Today, many of the towns along the Murray River in this area are holiday destinations due to the stable climate and water activities including river cruises, boating, fishing and swimming.
The Goulburn Valley and the city of Shepparton is located in the southern part of the central Murray region. This area is known as the "Food Bowl of Australia" and features dairying, fruit growing and farms which produce around 25 percent of the state's agricultural output.
The eastern section of the Murray region includes Wodonga which is situated on the southern banks of the river and near Lake Hume which is popular for those into water activities. Further east, the region extends into the highlands of the Great Dividing Range, meeting the Kosciuszko National Park where the source of the Murray River can be found. Nearby is Victoria's largest capacity reservoir, the Dartmouth Dam.
Visitor information centres
---
Regional photo galleries