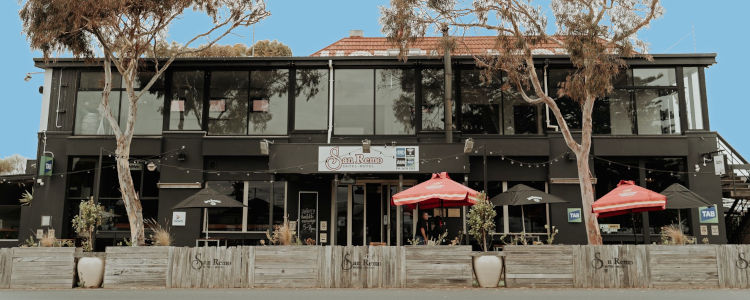 San Remo Hotel Motel is located right in the town centre of San Remo, just across the road from a large foreshore park and the beach.
Accommodation consists of 6 ground floor units. Each unit can sleep 4 people and includes one queen bed, 2 single beds, heating, air-conditioning, bar fridge, microwave, toaster, TV and DVD player. Free Wi-Fi internet is available within the hotel but it is not accessible within guest rooms.
While staying at San Remo Hotel Motel, enjoy a meal at Mario's Bistro. Located within the hotel, the bistro prides itself on quality meals prepared with love. Fresh, local seafood is used, and all sauces are hand-made from raw ingredients.
The hotel also includes a lounge bar, sports bar, pool table, dart board and video jukebox.
A free courtesy bus service is available to transport guests to local attractions.
Base yourself at San Remo where you will be no more than 15 minutes drive from Phillip Island's premier attractions including the famous penguin parade, Seal Rocks, Churchill Island, Grand Prix Circuit and Koala Conservation Centre.
Nightly rates from

Property features

• Restaurant on-site