Starting at Wangaratta in the north-east, the road winds its way 339 kilometres through Victoria's high country across to Bairnsdale on the jaw-droppingly beautiful Gippsland Lakes. The Great Alpine Road is Australia's highest year-round accessible sealed road. It passes through lofty mountain ranges, plunging valleys, and past rolling vineyards along the way to the sparkling waterways on Gippsland's coast.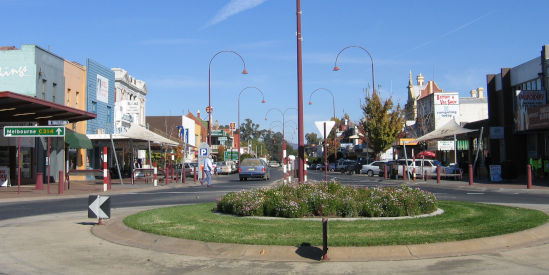 Wangaratta
Best known as the gateway to the Great Alpine Road route, this large regional Victorian town is known for mouth-watering local produce, fine wine and renowned jazz festival.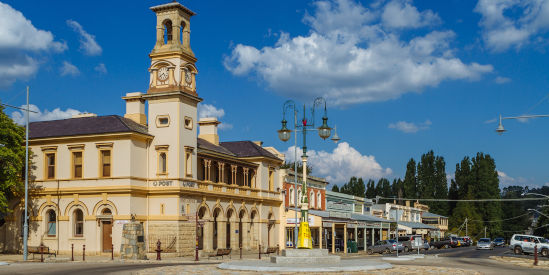 Beechworth
Shortly after commencing your trek, you may wish to detour to Beechworth and sample the history of the 1800s gold rush that marked the area. Take in the sights of the courthouse where the final trial of infamous Bush Ranger Ned Kelly was held, and treat the tastebuds to some delights from the famous Beechworth Bakery.
The detour via Beechworth will add around 20 kilometres to your journey.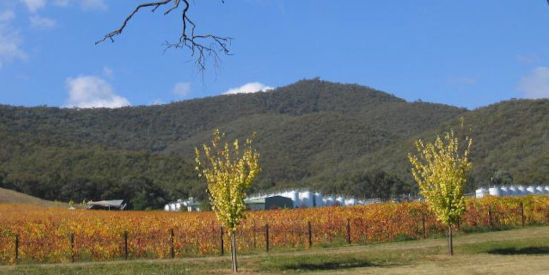 Myrtleford
The delightful town of Myrtleford is surrounded by forests, wineries, fruit and nut farms. A short drive south of Myrtleford is picturesque Lake Buffalo.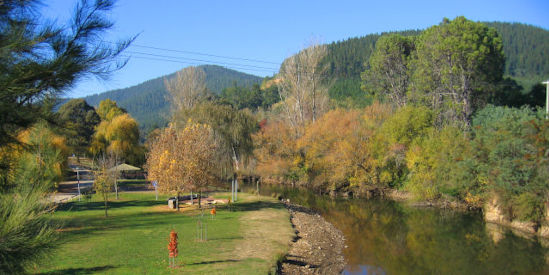 Porepunkah
This tiny town sits on the Ovens River and is at the gateway to Mount Buffalo - best known for its unique granite rock formations, waterfalls and picturesque lookouts. You can try your hand on a horseback ride or cycle your way around the sights. Some choose to try downhill or cross-country skiing also, depending on the season.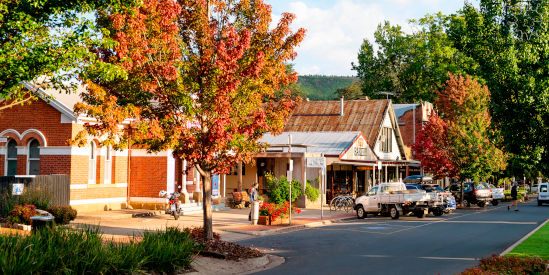 Bright
Finding yourself in Bright, you will be welcomed by the flowing Ovens River that fits snugly around the town. Bright is a breathtaking sight, particularly in the autumn months when the leaves change colour. Spend some time in Bright discovering walking trails, lookouts, scenic picnic spots and great food.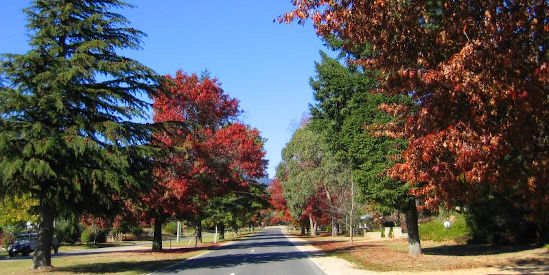 Harrietville
A small community surrounded by mountains, forests and offering great scenery, located at the base of Mount Feathertop.
Once past Harrietville, the Great Alpine Road becomes quite windy as it ascends towards Mount Hotham.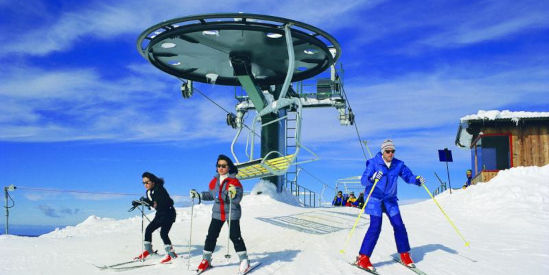 Mount Hotham
The snow resort of Mount Hotham is a ski-enthusiasts delight. With over 245 hectares of skiing area available, Mount Hotham is the main drawcard to the Great Alpine Road driving route for many.
Known as the "high country", this area is great for those who like hiking and horse riding - as well as skiing in the winter months of course. In summer the well-known Razorback mountain hike is aglow with wildflowers, and you may wish to choose the Alpine Wild Walk across the Bogong High Plains with plenty of sights to see along the way. Or simply spend some time mulling over life at Hotham's famous Danny's Lookout which provides views out to nearby Mount Feathertop.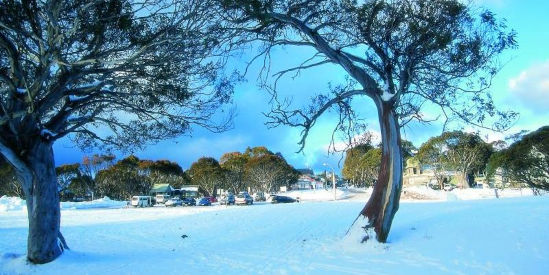 Dinner Plain
Just 10 kilometres past Mount Hotham you can visit the oddly named Dinner Plain - a horseback rider's heaven with several local tour operators who operate all year round.
Dinner Plain is the largest recreational horse riding area in Australia. Some enthusiasts even choose to drive the Great Alpine Road route with horse trailer in tow just to visit the area and take in a few rides.
Those who have a 4WD might like to trek these areas by 4 wheels too, rather than 4 hoofs!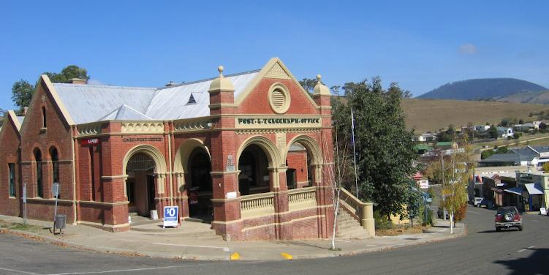 Omeo
Omeo is a well-known service centre for cattle and sheep farmers in the region and is a nice place to relax after some possibly energetic times in the High Country on horseback or hiking boot.
Stay in a romantic hilltop villa and delve into the area's gold mining history while you enjoy acres of cattle grazing land to take in. For scenic countryside you could never imagine in your wildest dreams, visit the Kosciusko Lookout - just off the Great Alpine Road itself. There's lots of great 4WD tracks in the district for the willing and able.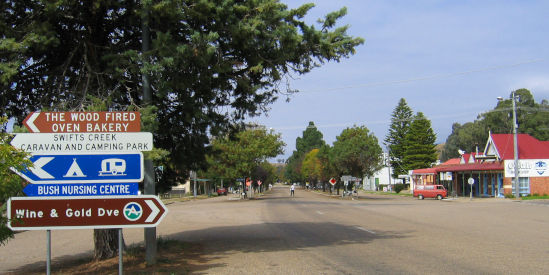 Swifts Creek
Just over 25 kilometres from Omeo is the small community of Swifts Creek, located at the junction of the Tambo River and Swifts Creek. Stop at the friendly Albion Hotel for refreshments or a meal, visit the Great Alpine Gallery, or take a drive along some of the scenic back roads in the district.
An alternative way to get from Omeo to Swifts Creek is to take Cassilis Road (known as the "Wine & Gold Drive") which passes through the former gold mining shanty town of Cassilis. While nothing remains of the actual township, the surrounding Cassilis Historic Area preserves some relics from the town's gold mining days.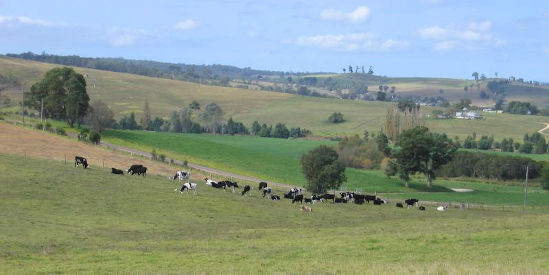 Bruthen
Heading further southwards, the Great Alpine Road descends through the mountains, hugging the Tambo River for part of its scenic journey. It then reaches the small town of Bruthen, located within gently rolling hills, marking the final stretch of the Great Alpine Road driving route.
Take a stroll along Bruthen's attractive main street with its shady gardens, or if you're visiting in February, check out the Bruthen Blues & Arts Festival.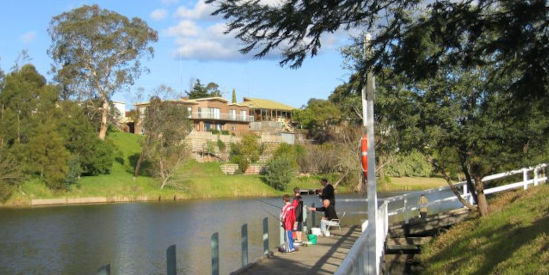 Bairnsdale
The end of your Great Alpine Road tour, or the beginning if you choose to take the route in reverse, Bairnsdale is an inland port that borders on the pleasant backdrop of the Gippsland Lakes.
You will find paintings by Francesco Floreani from the 1930s in St Mary's Catholic Church or it may appeal to just sit quietly along Lake King at nearby Paynesville and sample the serenity.
Bairnsdale is a great place to start your exploration of the Gippsland Lakes or take in an outdoor adventure along them such as kayaking or camping. Discover enough wineries to stock up the car along the local wine trails and don't forget to drop into the local museums and antique shops for a taste of Bairnsdale history.
Which direction to drive?
If you are doing a one-way trip along the Great Alpine Road, you may wonder which is the best direction to drive - south-east from Wangaratta to Bairnsdale, or north-west from Bairnsdale to Wangaratta?
The main consideration with travel direction is the sun when it is shining. If you are driving between April and September, the sun is lower in the sky and tackling bends and going over crests of hills will be more uncomfortable if the sun is directly in your eyes. So if you are doing your driving from late morning onwards, travel towards Bairnsdale so that the sun will be behind you most of the time. Otherwise, if you intend to be driving mostly in the early morning, travel towards Wangaratta. You will also enjoy better views without sun glare.
Driving the Great Alpine Road during the snow season
Officially, Victoria's snow season commences on the King's Birthday long weekend in June and concludes on either the last weekend of September or first weekend of October. However, sometimes seasonal conditions may result in the period of the snow season being altered.
If you are driving along the Great Alpine Road during the snow season between Harrietville and Omeo, thus visiting or passing through Mount Hotham and Dinner Plain, it is a mandatory requirement that you carry snow chains at all times. These specially designed chains can be fitted to your vehicle's driving wheels and provide increased grip on the road. They should be fitted at designated chain fitting bays beside the road when you see signs that say "Fit Chains Here", or when you are about to depart from a mountain resort and are directed to fit chains by the appropriate authorities. Chains must be removed from your vehicle's wheels when the road is clear of snow or signs direct you to do so.
The Great Alpine Road between Harrietville and Omeo is not suitable for those towing caravans during the declared snow season.
Avoiding the Harrietville to Omeo section of the Great Alpine Road, by using the alternative parallel route of Bogong High Plains Road, is not possible as the section of that road south-east of Falls Creek is closed during the snow season.
Snow chain hire
A number of service stations and other businesses in towns along the Great Alpine Road allow you to hire or purchase snow chains.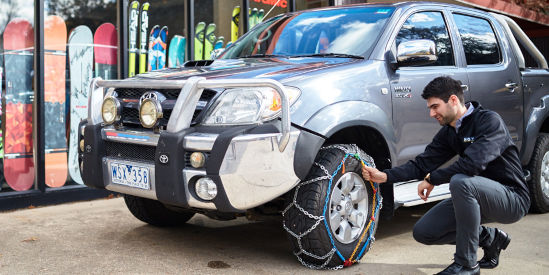 Hoy's Skis
Hoy's have outlets at Harrietville, Mount Hotham, Dinner Plain and Omeo where they hire and sell snow chains. Drivers doing a one-way trip along the Great Alpine Road and wishing to hire chains can pick up and drop off chains from Hoy's in Harrietville and Omeo. Hoy's also offer a handy mobile chain fitting service whereby if you hire your chains from their Harrietville branch, they will be fitted to your vehicle at chain fitting bays on your journey towards Mount Hotham by their staff.
www.hoysskis.com.au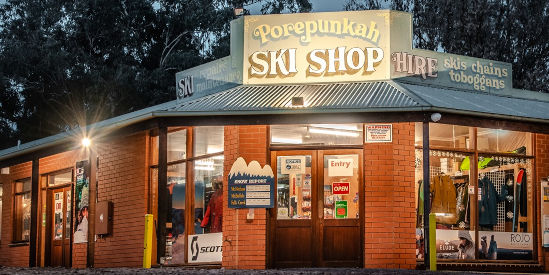 Porepunkah Ski Shop
Located just off the Great Alpine Road in Porepunkah, which is the gateway to Mount Buffalo, Porepunkah Ski Shop provides snow chain hire and sales.
www.porepunkahskihire.com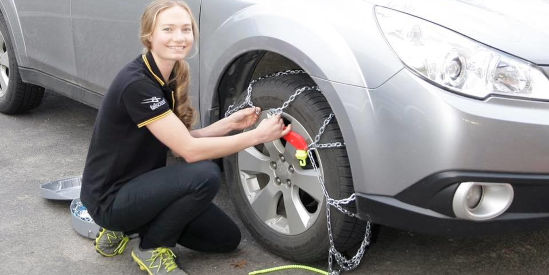 Rays Ski Shop
Rays are located on the Great Alpine Road at Myrtleford and offer a range of snow chains for hire or purchase.
www.rayskishop.com.au