All sorts of native wildlife can be spotted throughout Victoria. Many areas, particularly national and state parks, are home to a variety of animals, and if you take a quiet walk through these areas, there are good opportunities for catching sight of some these creatures.
Wildlife can also be observed at many dedicated animal sanctuaries.
Koalas
Most international visitors don't feel like they've truly experienced Australia until they've come up close with a koala. Luckily there are plenty of opportunities to do so.
French Island is home to the most significant population of koalas in Victoria. Their thriving growth allows hundreds of koalas each year to be relocated to other reserves in the state. French Island is located in Western Port and is accessible by passenger ferry from either Stony Point on the Mornington Peninsula or Cowes on Phillip Island. Less than 100 people live on the island and much of the land is part of the French Island National Park.
At Kennett River, on the Great Ocean Road between Apollo Bay and Lorne, is a good place to go koala spotting. Grey River Road, which cuts through the Great Otway National Park, is lined with gum trees that house families of koalas in their natural habitat. You may need a pair of binoculars as koalas often fall asleep among branches of eucalypt trees and all but camouflage themselves into the bark.
The Brisbane Ranges National Park, near Anakie, is a rich wildflower habitat and has one of the greatest densities of koalas in the state, particularly around the Anakie Gorge.
Ulupna Island, in Barmah National Park near Strathmerton, is home to both koalas and kangaroos.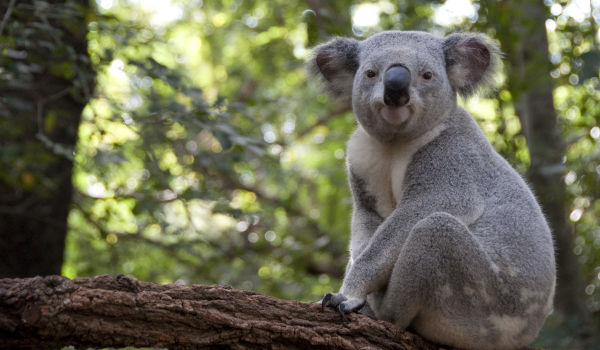 Kangaroos
Kangaroos are a national symbol of Australia and these native marsupials can commonly be found throughout Victoria. The red kangaroo typically inhabits open areas of shrub, grasslands and deserts in the north-west of the state, while the eastern grey and western grey can be found along the coast, grasslands and in forests.
On the Mornington Peninsula, Sorrento back beach is a good place to go at dusk to see eastern grey kangaroos. The southern end of the Mornington Peninsula is also inhabited by wallabies, bandicoots and a variety of birdlife. As night descends, possums, sugar gliders and bats may be seen.
To see kangaroos in Victoria's High Country, a good place to go is Pines Clearing, near Mansfield. At dusk, the kangaroos emerge from the state forest to graze there. The clearing is around 5 kilometres along Walshs Road, off Goughs Road. Many other species, such as wallabies, wombats, possums and birds also inhabit the area.
An interesting place to observe kangaroos are at some of Victoria's country golf courses. The most famous kangaroo spotting course is the Anglesea Golf Club on the Great Ocean Road at Anglesea where you'll always see the resident population of eastern grey kangaroos around. At the Cohuna Golf Club near the Murray River at Cohuna, kangaroos share the fairways which are lined with red gum and box forest trees. And in central Victoria, visit the Heathcote Golf Club at Heathcote where kangaroos and emus call the course their home.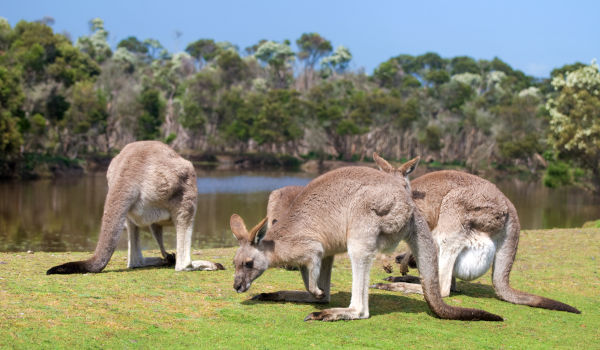 Emus
Australia's largest native bird is the emu which is flightless. It has a docile but curious nature and stands up to 2 metres in height and can weigh up to 55 kilograms.
Emus have long and powerful legs which allows them to run at speeds of almost 50 kilometres per hour.
While not as common as kangaroos, emus can be found in many areas of Victoria, from coastal regions to inland plains, although they tend to avoid areas where there is thick bush or human activity. National and state parks are some of the best places to see emus.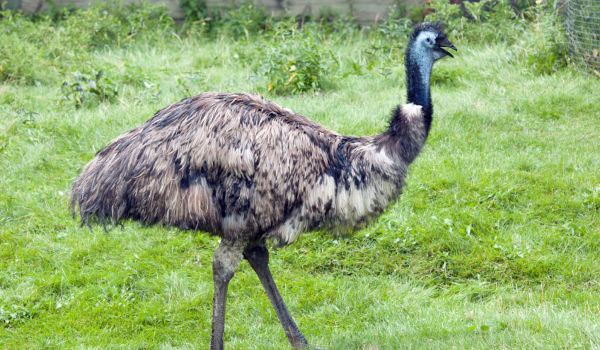 Penguins
The best place to see penguins in Victoria is by attending the twilight Penguin Parade on Phillip Island. This is one of Victoria's premier tourist attractions, attracting around half a million visitors each year who come to see the penguins emerge out of the ocean, waddle up the beach and into their burrows in the sand dunes each evening after time spent at sea. Viewing platforms have been erected to allow visitors to watch the parade without disturbing the penguins. Private viewing options are also available, with a ranger providing information about the birds.
Melbourne also has a couple of small fairy penguin colonies. The birds have adopted a rock structure in Port Phillip as their home, and some can also be found within the rocks that form the edge of the harbour at the St Kilda Pier.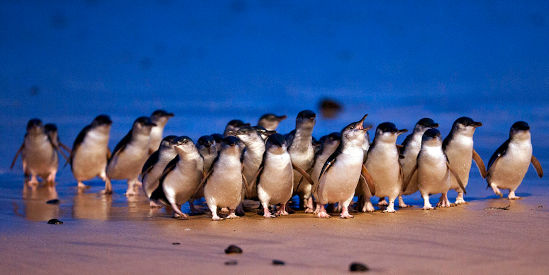 Penguin Island Tours
Explore, experience and embrace the beauty and wildlife that is Phillip Island as you are shown the island like you've never seen it before. Visit to a wildlife park, Cape Woolamai, The Nobbies, Seal Rocks, and at sunset, witness the nightly show of the penguins waddling ashore.
www.penguinislandtour.com.au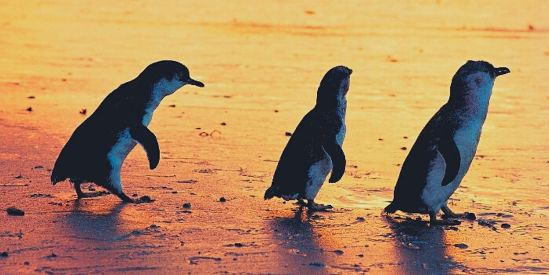 Phillip Island Day Tour
See the world class attractions of Phillip Island all in one day on a small group eco tour from Melbourne. Indulge yourself with wine tasting, see chocolates being made, get up close to koalas, and at dusk watch the fairy penguins waddling up the beach into their burrows in the sand dunes.
www.gowest.com.au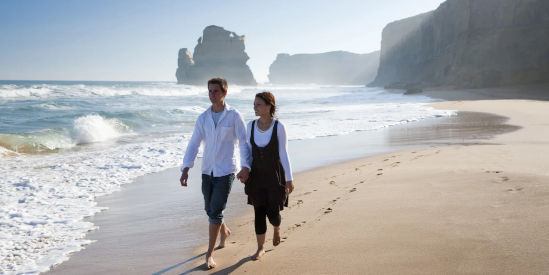 Wildlife Tours Australia
We offer an exciting selection of 1, 2 and 3 day tours of some of the most scenic and fascinating parts of Victoria. Visit the Grampians, Great Ocean Road and Phillip Island with its famous penguin parade.
www.wildlifetours.com.au
Whales
Taking in the serene and calming influence of a whale is best done when the mammal is safely ensconced in its own natural environment.
The coastal city of Warrnambool is Victoria's most well-known vantage point for whale watching. Between the months of June and September, visitors flock to the area to watch female southern right whales return to the calm water of Logans Beach to give birth to their calves. They usually stay in these waters for several weeks while the calf grows in strength, before returning to the colder, sub-Antarctic waters where they spend the summer. Visitors do not even usually have to hop aboard a whale charter to get up close and personal with this magnificent animal - many whales come within a few hundred metres of shore, and viewing platforms atop the sand dunes specifically made for whale watching dot the beach landscape.
For the latest information on whale sightings in Warrnambool, see the Great Ocean Road Whales Facebook page.
The Portland area is the place to go to view blue whales, the largest animals on the planet. From November to May, the whales migrate to the Bonney Upwelling to feed on krill. This is an area where cold, nutrient-rich water from deep in the ocean is brought to the surface and is one of only three known coastal feeding areas in the southern hemisphere. The whales generally aren't close enough to the coast to be seen from land, though sometimes their blows may be sighted as they come to the surface to breathe near Cape Bridgewater and Cape Nelson. Whale lovers can either a ride above the waters in a helicopter to see how the whales eat and frolic, or get up and close on a whale watching boat tour.
Portland is also a good place to see southern right whales as they move through the Southern Ocean during winter. Good vantage points in town are Lee Breakwater, Nuns Beach and also the top of coastal cliffs in those areas. Some whales come very close to the coast and enter the calm and deep waters of Portland Harbour. Nearby Cape Bridgewater also provides some good spots for viewing southern right whales.
For the latest information on whale sightings in Portland, see the Whalemail Facebook page.
Southern Coast Charters
Join a deep sea, reef or tuna fishing charter from Port Fairy, along the coast between Portland and Warrnambool. For wildlife lovers, enjoy a whale watching cruise during the calving season (June to September) or a seal watching tour.
www.southerncoastcharters.com.au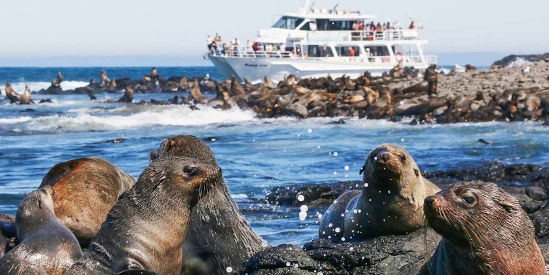 Wildlife Coast Cruises
Wildlife Coast Cruises offering a range of cruises which showcase the stunning coastal environment of Phillip Island and its unique wildlife. See Australia's largest wild fur seal colonies off the rugged south west coast of Phillip Island at Seal Rocks, search for the majestic southern whales on a winter cruise, marvel at the spectacular scenery of Cape Woolamai including a cruise under the Phillip Island bridge, experience the thrill of a high speed eco cruise, or relax at the end of the day with a leisurely twilight cruise through the sheltered waters of Western Port. Depending the cruise, departure is either from the jetties at Cowes, Rhyll or San Remo.
www.wildlifecoastcruises.com.au
Seals
Fur seals love to roam freely with their family and friends. People can get close to these amazing creatures who are magnetically drawn to the Victorian coastline.
Lady Julia Percy Island, just off the coast of Port Fairy, is a fur seal heaven thanks to its flat surface and sheltering surrounding cliffs. The seals share their much-loved home with fairy penguins and endangered mutton birds, a few sharks and plenty of fish and seabirds. It is expected that up to 30,000 fur seals inhabit this island and enjoy the feast of squid that the waters around the area provide them with. Visitors can take a ferry or charter a boat to Lady Julia Percy Island to get an up-close look at the gorgeous and gregarious fur seal that love to call Victoria home.
Seals can also be found at Cape Bridgewater near Portland. You can opt to hop aboard a chartered sea spotting boat and cruise out into the deep blue to get as close as possible to seals that are frolicking and flaunting themselves alongside the boats. You can also spot the seals from vantage points along the Cape Bridgewater Trail.
Discover one of Australia's largest wild fur seal colonies at Seal Rocks off the western tip of Phillip Island. Take a seal watching cruise and drift within metres of these fascinating and curious creatures in their natural environment. Dolphins and seabirds also frequent the area. For those not wishing to venture out onto the seas, visit the Nobbies Centre which provides the opportunity to watch the seals, with special cameras available to allow close-up viewing.
Fur seals can also be seen at Chinaman's Hat - an octagonal channel navigation marker in Port Phillip, just inside its entrance between Queenscliff and Portsea. It is used by the animals as a rest stop.
Dolphins
These marine mammals have long played a role in human culture and are regarded as one of the most intelligent animals in existence.
Port Phillip is home to over 100 bottlenose dolphins. Take a cruise or get into the water and swim alongside these playful creatures. Many tours also visit the fur seals at Chinaman's Hat, with the opportunity to spend time in the water watching, and being watched by, these inquisitive creatures as well.
Dolphins can also be spotted in other coastal areas of the state including around Portland and Lakes Entrance.
Glow worms
Within Melba Gully, near Lavers Hill, you can hunt down the most amazing sight of glow worms in all of their burning glory. These amazing and alluring creatures are a huge attraction, with many visitors choosing to take the trail with a tour group after dark to catch the colony of incandescent critters who live along the way. You can usually spot glow worms along the walking track itself - an amazing form of late-night bushwalking illumination to delight visitors.