Australian rules football is a sport that is rich in tradition and has been a very important part of Australian culture for many years. The first game of Australian rules football was played in Melbourne in 1858, with the first set of rules being drawn up the following year.
Australian rules football is the most highly attended spectator sport in Australia.
Australian Football League (AFL)
The AFL is the top professional mens competition for Australian rules football. It has 18 teams in five states, with 10 of those teams based in Victoria. The AFL season traditionally commences in mid-March and ends with a grand final on the last Saturday in September or first Saturday in October. Games are generally played across the weekend though there are also some mid-week games.
AFL matches are hosted at a number of sports stadiums around Australia. In Victoria, there are three venues which are regularly used. With large crowds in attendance, the atmosphere at an AFL game is an experience not to be missed.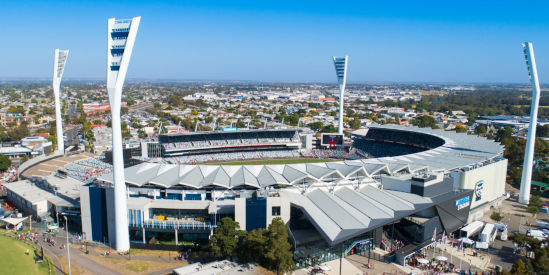 GMHBA Stadium
GMHBA Stadium is located within Kardinia Park and is the home ground of the Geelong Football Club. Seating over 28,000 spectators, it hosts football, soccer, rugby and cricket matches. It is also used as a concert and function venue.
Location: Geelong
www.kardiniapark.vic.gov.au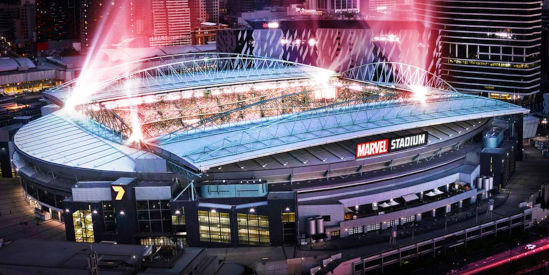 Marvel Stadium
Marvel Stadium is a sporting and entertainment venue that is located in the heart of Docklands. It hosts football, soccer and rugby matches, plus concerts and functions. The stadium has a fully retractable roof and can seat over 53,000 spectators.
Location: Docklands
www.marvelstadium.com.au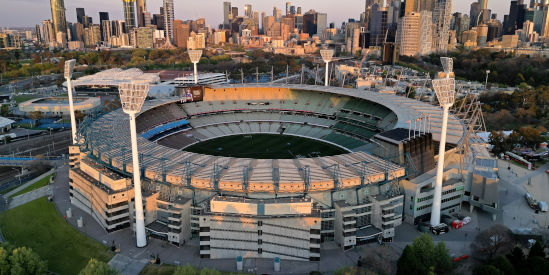 Melbourne Cricket Ground (MCG)
Located in Yarra Park, the MCG is Melbourne's favourite premier sporting ground. It hosts football, rugby, soccer and cricket matches, and was also the main stadium for the 1956 Olympic Games and 2006 Commonwealth Games. The venue can seat around 100,000 fans and behind the scenes guided tours of this iconic stadium are available.
Location: East Melbourne
www.mcg.org.au
Other leagues
As well as the national AFL competition, there are many other leagues throughout Victoria.
The AFLW (AFL Womens) league began playing in 2017 and is comprised only of female players. It has 18 teams which are the same as in the men's league - 10 Victorian and 8 interstate teams. The annual playing season usually starts in early September. Matches are played at smaller suburban or regional sporting grounds.
The VFL (Victorian Football League) is a football league that was originally Victorian based but in 2021 expanded from 16 local clubs to include three each from New South Wales and Queensland. Most VFL clubs have an affiliate team in the AFL.
Many country towns have an Aussie rules club and their followers are just as passionate about their team as AFL fans. Most games are played on Saturdays and it's not too difficult to find a game to watch somewhere in the state.